Our Vision
The Riverside County Surveyor is committed to being customer focused by helping all applicants in the development process. We do this by leveraging technology to increase efficiencies, training, mentoring staff, and building cross departmental relationships, which allows staff to be engaged in the work we do. This helps us perform with agility and flexibility in the work we do for the residents and developers in this County.
Our Goal 
To provide the public, Transportation Department, and other County departments with information and assistance that will complete any project or request in a timely and professional manner.
---
IMPORTANT NOTE: The County Surveyor does not survey private property. Contact a licensed land surveyor for this work. Click here for a list of land surveyors.
The County Surveyor's Division is responsible for all land surveying functions within the Transportation Department and offers its services to other County Departments and local agencies. This Division performs field surveys including preliminary, property, construction and geodetic (including GPS) surveys; provides public information and keeps land surveying and public right-of-way records; performs office analysis of all field surveys; performs and reviews right-of-way work for Transportation projects and private developments, reviews LAFCO documents, and checks and recommends for approval street names; performs Tract and Parcel Map checking, Record of Survey and Corner Record checking, and the review of Lot Line Adjustments, Mergers, and Certificates of Compliance.
We can be contacted at (951) 955-6700 or by e-mail click here.
---
For your use and information below are the sections within the Survey Division. Please feel free to click open the areas for information on our services. For employment opportunities see the area noted as such.
---
---
---
---
(Final Maps, Corner Records, Records of Survey & Minor Land Cases)
---
---
---
Contact Info
Image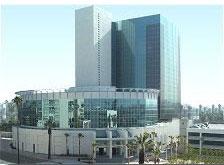 Riverside County Administrative Center
4080 Lemon Street, 8th Floor
Riverside, CA 92502-1629

Phone: (951) 955-6880
Hours:  Mon-Fri, 8:00 a.m. - 5:00 p.m.
Click to view map and get directions.